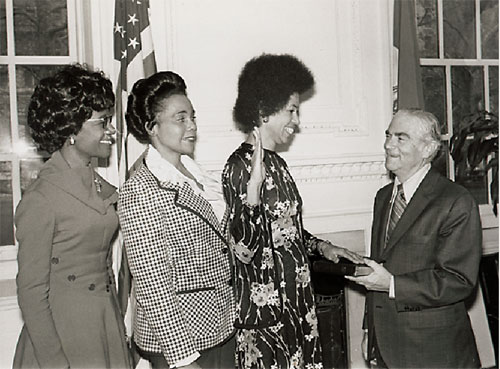 <-This is a picture of Antiochian Eleanor Holmes Norton being sworn in as Chairwoman of the US Commission on Human Rights, March 8, 1974. Representative Shirley Chisholm and Antiochian Coretta Scott King are at left.
Well! It's a fast transition in this town! No time for lame ducks or cold feet! (Maybe just some cold duck?)
The new council will be sworn in on Monday evening at our first meeting; we'll elect a new council president and vice-president, appoint new members to the various commissions, committees, task-forces and boards that work for our village, and then move on with business--new and old.
So
Sunday evening we're having a big, "Inauguration Eve" party, at Krista's, 7:30 pm
. Please email me for address and directions!