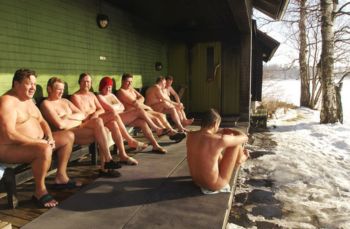 <--Traditional Finnish sauna!
Dear People:
This morning I turned in 80 signatures (I needed 35) for my Village Council nomination petition, two days ahead of the deadline (yahoo!). Thanks to all who signed and/or sent in good wishes. I find it's actually pretty heartening to speak to villagers. My experience is that even most people who have disagreed with me on a single issue or vote, or a few votes, are very appreciative of those of us who stick our necks out and try to fill this role to the best of our abilities and with integrity.
Thanks for recognizing our efforts, and don't be afraid to let me know your thoughts on any vote. I really do listen, and hearing your arguments--even if I ultimately disagree--is helpful as I try to have an awareness of the 'pulse' of the village. It may shape a future vote or project in future ways even if the immediate vote doesn't go your way.
Tonight the Planning Commission will be voting on the "Preliminary Plans" for the Barr Property being put forth by Home Inc and their partner for this project, Buckeye Community Hope Foundation, which we discussed conceptually at our last meeting. While I have some logistical concerns, I was impressed by the plans, in general, as was the rest of the Planning Commission, I believe. Home Inc and Buckeye would like to get initial approval for use, density, parking, and open space, and then be able to delay submitting more detailed preliminary plans until after they have secured the tax credits from the highly competitive process. Brad Schwab, our planning consultant, argues that this is a reasonable request due to the uncertainty of the tax credit process, and suggests we allow this. Additionally, as I see it, it allows for a little more time for us to fully digest the plans. I support a modified plan approval process.
Mr. Schwab also recommends that we suggest some design modifications to help make the building fit better with the neighborhood and to keep the units usable for seniors for at least 15 years. They seem reasonable, and I look forward to continued discussion tonight. If we decide on the modified process, we could focus on these kinds of details at a later date.
The only other item of significance on our agenda is Tim Tobey's work on examining the Parks and Rec Master Plan with local people who have a particular interest. I suspect that agenda item could be delayed if the Barr Property plans take a significant amount of time.
Watched a wonderful PBS film, "Steam of Life," about Finnish men in the sauna (
available for free streaming until Nov. 1
) last night after our sauna. So I thought I'd end with a poem about women and sauna:
The Bodies
By Elizabeth Spires
Here, in the half-dark of the sauna,
the bodies of the women glisten ...
Naked, disproportionate, lush,
hung and burdened with flesh, they open slowly,
like orchids blooming out of season.
Sweat beads my forehead.
Heat rings my breasts, like circlets,
and I am my body, all shimmering flesh.
Secrets are whispered here. Stories told.
The bodies, alabaster, abalone,
relax, give up their pose, to ask,
How shall we be joined?
How shall we know each other?
By doors, by chains and linkages
through which we shall be
entered, touched, possessed.
I see them, row upon row, the rank and file
of generations moving without pause:
—the bodies of the young girls, the willows,
complete unto themselves, androgynous;
—the great bodies of the mothers,
circled by their little moons, adoring;
—the mothers of the mothers,
the old wise ones, ponderous and slow.
And in another room, not far from this one,
the restless bodies of men, searching
without knowing what it is they search for.
Body of the world! Body of flesh!
Leaving this room, I leave the orbit of women.
I dress and walk into the snowy night,
into the great body of the world,
cold, still, and expectant.
Bodying forth, I am taken by the dark.
What am I? Asked, shall I say:
Struck by a spark, I quickened
and was born to flashing
days and nights, a small significance
of one. I did not wish to change,
but changed, feeling desire and fear
and love, failing many times.
My meaning made, I died,
the windows darkening for the last time.
We move, we love, we cry out,
we hold or cannot hold to what we are
and finally wake to find ourselves
changed beyond all imagining.
Was it enough to have lived?
In that moment of still approach,
will it be given to us to know?


Elizabeth Spires, "The Bodies" from
Worldling.
Copyright © 1995 by Elizabeth Spires. Reprinted with the permission of W.W. Norton and Company, Inc. This selection may not be reproduced, stored in a retrieval system, or transmitted in any form or by any means without the prior written permission of the publisher.