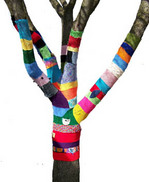 Hi, all--Just a note that our next Village Council meeting, on Monday, we'll have the first reading on the budget for 2008--7 pm in the Council Chambers on the second floor of the Bryan Center.
I'll also be doing my normal "office hours" on Monday, in the Emporium, 12-1:30. Stop by! There's lots to discuss--economic development, the Barr property, and budgeting are all hot topics right now. And I'm sure there are some I'm not aware of.
Tomorrow (3/15) we're mainly discussing group process/dynamics, philosophies of governance, and procedures to help make our meetings productive and efficient at our retreat, from 9-3 pm.
Finally, last Monday the knit-knot tree downtown
made national headlines
and,
according to one reading, helped boost our image as an arts town
in a way that a massive expenditure by Las Vegas on an arts project did not. Thanks to Corrine Bayraktaroglu and Nancy Mellon for this lovely addition to our town--it makes me smile every time I pass it.